Foundation Education
MMF Trainee Availability 
Our trainees are available for work should you be seeking a Camera Trainee for your current or future TV /Film production. For enquiries and availability please contact Sarah Prince at PrinceStone on 020 8883 1616 or Email  Sarah.
Current Trainees 2021
Current Trainees 2020
Past MMF Trainees  2019

Foot in the Door
The Mark Milsome Foundation launched this graduate mentorship programme in January 2019, approaching all CILECT Film and Television schools in the UK who offer BA programmes. The schools were invited to nominate two graduating students who have a genuine and passionate interest in the camera department to be considered for a one-year mentorship programme that would help bridge the gap between full-time education and employment in the film and television industry.
The foundation is keen to clarify that this is not an easy pass or fast track; it is an opportunity for students to access work experience and mentorship after their course ends to prove they have the character, determination and focus needed to thrive in the industry.
In January 2019 film schools across the country were invited to propose their most impressive and hard working students who have excelled in their student courses and who wish to pursue a career in the camera department.
In May 2019, a final round of interviews took place at Panavision London where nine finalists were interviewed by eight Foundation members.
The successful applicants were Daisy Allen (Falmouth University School of Film and Television) and Davey MacDonald (University of South Wales).
The next Foot In The Door application process will start April 2021.
In association with BAFTA, all trainees will be granted free access to BAFTA events in London and around the UK.
MMF and GBCT Health and Safety Training 
From May 2021 the Mark Milsome Foundation in Association with Media Safety will deliver a free, certified, face to face, Health and Safety course to all GBCT Finalists who are chosen for the GBCT one week training course (Approx 18). This will ensure that not only all GBCT Trainees will be certified in Health and Safety before setting foot on set but additionally that all finalists will benefit from the additional qualifications to take forward as they make their way in the Film and Television Industry. The Mark Milsome Foundation is committed to not only help deserving young people have opportunities in the industry but also make sure that industry is safe.
The GBCT programme takes place every two years with the next trainee recruitment programme starting 2021. More information can be found on their website at, GBCT Website
Foot on the Ladder
In the first two years the Foundation has helped young people outside of the 'Foot In The Door' programme as detailed below, we call this 'Foot On The Ladder' and as the title suggests we very much hope it becomes a page to inspire others and to offer genuine opportunities within the industry.
Neil Gaiman – Call for Trainees! 
BBC Scotland has a number of paid trainee positions in various departments available. If you would like to apply then please email your CV and a cover letter to goodomenstraining@gmail.com. Please follow the link or click on the image below for deadline details and more: https://www.facebook.com/neilgaiman/posts/351776042983999?comment_id=200377118554116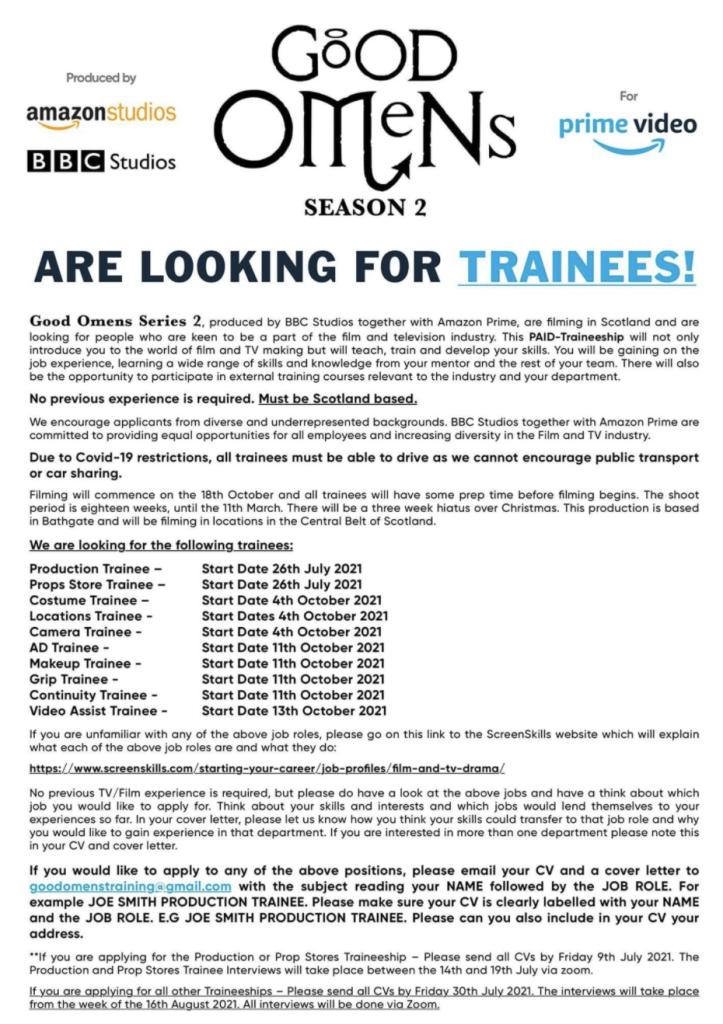 Cian Strain
Shortly before Mark went to Ghana he decided to offer Cian Strain the role of his new trainee. Mark and Cian were emailing up until the weekend of Mark's death, making arrangements to catch up on Mark's return. After the accident Mark's wife, Andra explained the situation and we have tried to help Cian and honour the faith Mark had in him. Cian is based in Ireland and has worked in TV and had experience on some commercials. He has been helped specifically by Helen Hayden, Dublin based producer and has received excellent references and recommendations confirming that Mark's instinct about him was accurate. If any Irish based productions are looking for a trainee we would encourage you to contact us for Cian's details.
Jake Bentley
Jake initially applied for the 'Foot In The Door' scheme in 2019. He impressed the panel of eight Foundation members but wasn't successful in making the final selection process. At that time he was shooting a film every two weeks with a team of friends and fellow film makers. He delivered examples of his work that impressed the panel with enthusiasm and a work ethic that was impossible to ignore. The Foundation has enjoyed a strong relationship with Mark Purvis at Mission Digital and Mark agreed to offer Jake work experience. Mark soon offered Jake a permanent job and the Foundation helped him financially by covering an initial period of rent as he moved to London and set up home. Jake recently moved to Missions new Shepperton base and reports that he is thrilled with the opportunity and grateful for Mission for the offer of full time employment. Jake was also awarded the first 'Mark's Gift' an award made to a young person each year on Mark's birthday.
Fabian Wagner Camera Trainee opportunity
Fabian was one of Mark's favourite DP's and he is offering an opportunity that we feel belongs on the Foot On The Ladder page as much as any. Fabian has been helping young people enter the industry for 10 years with his involvement at BAFTA and the ASC and he has decided to offer his own opportunity on his next project. He is offering a paid 2-3 week opportunity for a camera trainee person. This is an exciting opportunity for anyone who would like to get some on set experience and take their first steps in the camera department. The shoot will be London based so applicants must have their own accommodation and transport to set each day. If you are interested please email your CV to Fabian at  firststepscinematography@hotmail.com  No prior experience is required but this is specifically for those with a passion for cinematography. Traineeships will start from April 2021.
Mission Digital Opportunities
We are happy to highlight Mission as a supporter of the Foundation and we have recently been discussing the fact that they are actively looking for young people interested in joining their data operations team as well as DIT Trainees. There are opportunities in this respected and digital workflow company that we are very please to announce as part of our Foot On The Ladder page. If you have strong technical skills with an interest in the post production process get in contact.