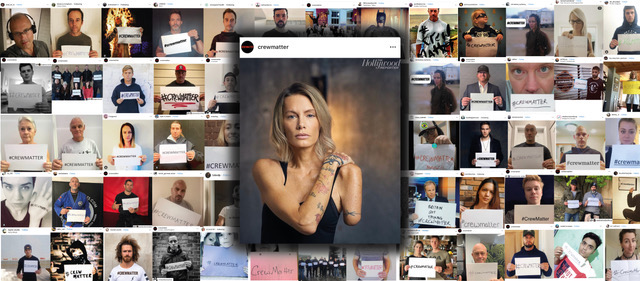 The Mark Milsome Foundation are proud to include details of #CrewMatter on their website. Stunt women, Olivia Jackson suffered life-changing injuries on the set of 'Resident Evil' in September 2015. David Grant, Olivia's husband and stunt performer set up #CrewMatter  appealing to production companies to put people before profit and take care of film crew, who without, action film would never be realized.
Olivia Jackson's life-changing film set accident took place in September 2015, on the set of Resident Evil, Olivia was meant to carry out a fight scene that day but the schedule was changed on the day and replaced with a high-risk head-on motorbike stunt with an action vehicle. This change ultimately led to a life altering conclusion for Olivia.
Unbeknown to Olivia, crucial elements relating to the stunt were changed without her knowledge, this affected the stunt & resulted in the action vehicle not lifting the crane arm in time to avoid hitting Olivia's head and upper body.
In a coma for 17 days and needing intensive corrective surgery to her head, face, and upper body, Olivia was also left with her top left quarter of her body paralyzed and she had to have her left arm amputated. Having performed numerous stunts in many multi-million-dollar box-office hits, Olivia suddenly found herself unable to work in an industry she loved.
While Olivia was in a coma fighting for her life it was discovered there was extremely limited medical cover in place by production. The production company promised that irrespective of insurance, they would keep paying for her medical bills until she was back to health.
They later backed out of paying, leaving Olivia unable to work & abandoned to pay for her lifelong medical bills alone.
On top of this Olivia's legal team later discovered that the production company didn't have employers' liability insurance in place to cover Olivia, or other key cast and crew, in the case of an accident where production are liable and even though the film made over $270million dollars the company who Olivia had contracted with was now an asset-less shell. This means that Olivia was left with no way to be fully compensated and therefore unable take care of herself for the rest of her life. Her current legal case against the production firm, the complex corporate structures they set up to protect the money made and the insurance inadequacies in parts of the film industry have led her, and those close to her, to want to make a change in the industry.
#CrewMatter launched to not only raise awareness of Olivia's battle, it is aimed at the film industry, from production companies, to actors and stunt crew, to film-goers who enjoy films who without stunt men and women, would never be realized. The goal is for production companies not to put profit before people & take care of the crew that works so hard to make their films.
What we need is for people like you to support this important campaign to ensure that no one is left in Olivia's situation ever again. Simply follow the campaign on:
• Facebook: @CrewMatter
• Twitter: @CrewMatter
• Instagram: @CrewMatter
You can make a difference too! Take a picture of yourself, like Olivia's, and post it on your social channels. We don't need you to say much, but if you have words of support, we'd love to read them in your posts.
Thank you.
#CREWMATTER