The Mark Milsome Foundation Film & TV Online Safety Passport Course is now live!
The course takes 90 minutes and costs £20 plus vat. It touches on all areas that we believe failed Mark Milsome in Ghana in November 2017 and attempts to update and empower crew to speak up to make sure accidents and deaths are no longer part of the industry statistics. Profits have been gifted to the Foundation, Mark's wife, daughter and parents.
The course was conceived and delivered by our previous Chair, Kirk Jones with support from The National Film and Television School and Media Safety Limited. It delivers a Production Safety Passport valid for 5 years from Screenskills and aims to ensure that no crew, production or cast member is ever injured or killed again because a risk on a Film or Television sets not effectively recognised, assessed, communicated or managed. Topics include Speaking Up, The Law, Working Hours, Health and Safety Abroad, Mental Health, Bullying and Discrimination, delivering a modern refresher for those with decades of experience and serves as a learning tool for those stepping foot on set for the first time.
________________________________________________________________________________________
____________________________________________________________________________________
Health and Safety Industry Survey – OCTOBER 2021
Since May 2020 The Mark Milsome Foundation have been researching the attitudes towards Health & Safety within the TV & Film Industry. The survey is now closed and the findings have been concluded. Please follow the link to see the full report HERE. The survey generated nearly 5,000 additional comments from participants which are accessible HERE.
93% of responses to the survey were from crew, 2% actors, 5% production based. 53% of participants were BECTU members others were members of the GBCT, Assistant Directors Guild, IATSE and included Directors, Directors of Photography, Editorial, Stunt Coordinator and performers, etc
Survey – Key findings
63% Believe the current H&S regulations need improving.
20% Do not believe H&S is adequate at all.
84% Say working hours; sleep deprivation; driving whilst tired; the main H&S concerns
80% Believe budget restrictions could be blamed for poor H&S
22% Say UK productions 'always' respect regulations
Response to a proposal for a Mark Milsome Foundation H&S Online Course:
71% of respondents say they would voluntarily support and enrol on a Mark Milsome Foundation Online H&S course, rising to 94% if mandatory
delivering support from a potential total of 94% support.
_________________________________________________________________________________________
In April 2021 The Foundation circulated the following open letter to the Film and Television Industry relating to what they believe relates to 4 Lessons Learned from Mark Milsome's death.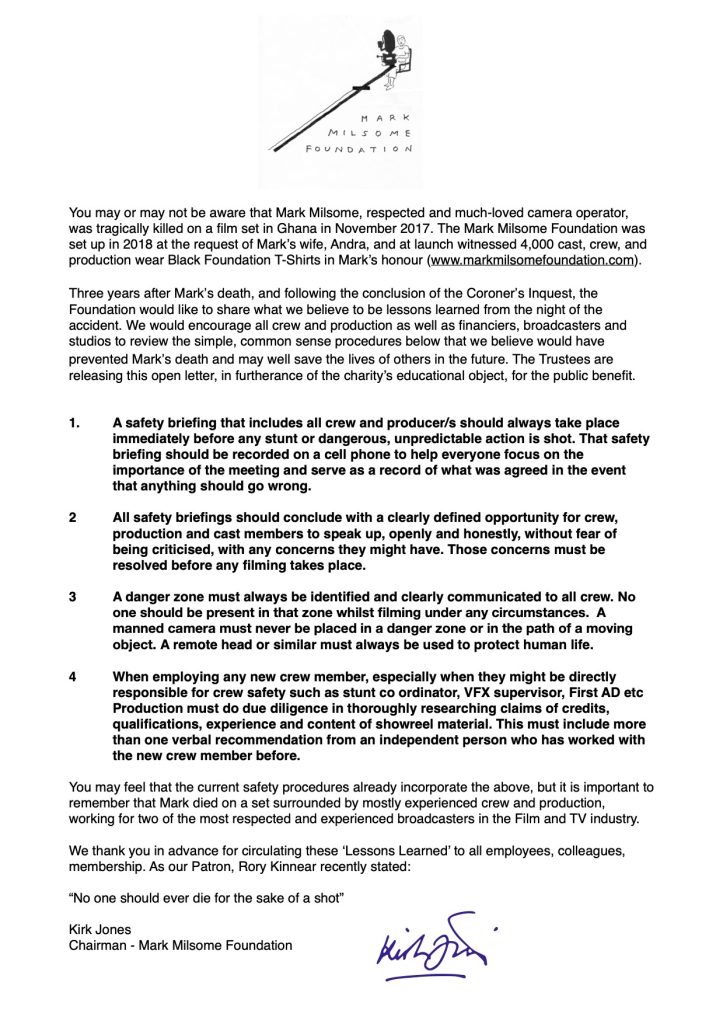 Mark Milsome Foundation Health and Safety Online Course Proposal – Feb 2021
In December 2019, Chairman of the Foundation, Kirk Jones, started researching current Health and Safety training and discovered that on average only one member of any crew will have received any level of formal H&S training outside their specialist department. The reasons simply appeared to be 'lack of time and money' with face to face courses averaging £400 and requiring days taken off work to complete the training. The cost alone made training prohibitive to young people entering the industry for the first time when they most need to become familiar with Modern Health and Safety practice.
Kirk proposed an affordable and user friendly, online, certified, Health and Safety course that was easily accessible on a phone, computer or iPad with the option of stopping and starting at any time so crew could take it in a time period that suited them with a target cost of £20.
Before work started on the course and to confirm there was a genuine need for the training programme, a survey was drafted and distributed industry wide to assess the current state of Health and Safety from the perspective of crew and production. The survey launched online in the Spring of 2020 and after receiving 5,500 responses including reports of problems, suggested solutions and unreported accidents, etc it was clear there was a need to help establish a basic foundation of knowledge and training to help prevent accidents and deaths in the future.
Coroner's Inquest
In October 2020 the outcome of the Coroner's Inquest into Mark's death delivered a conclusion that helped the MMF focus more clearly on how they could help support and improve standards of Health and Safety in the industry. The Coroner concluded:
…Shortly before the execution of the stunt, the risk of Mr Milsome being harmed or fatally injured was not effectively recognised, assessed, communicated or managed…. 
Mr Chinyere Inyama -Senior Coroner, West London Coroners Court – 23rd October 2020
Foundation Ambition
The Foundation believe that no crew, cast member or production employee in the Film and TV industry should ever again be exposed to death or injury because a risk is not effectively recognised, assessed, communicated or managed.
Inspired by the above and with a Mark Milsome Foundation online Health and Safety course well supported in the industry survey, Kirk Jones started writing and researching the online programme in December 2020 working with the support and guidance of Jake Edmonds and his team at Media Safety in Leavesden. The ambition for the course is as follows:
i To create a better understanding of modern H&S for all crew and productions including students, trainees and those with decades of experience in the industry, leading to an assumed reduction of accidents and fatalities. 
ii   To deliver a respected certificate that would become standard within the industry to signal a level of continuity of training with all crew/production having had the same information and education allowing safe decisions to be made from pre-pro duction to on-set decisions.
iii   To build a foundation of H&S education that can be expanded and advanced with traditional face-to-face training; blended H&S; and First Aid courses.
iv To deliver a focused and engaging online course written by those who are familiar with the workings of a film/TV set that can be taken at leisure on any computer of personal device for a cost of approximately £20.
v To make available a level of education that will not interfere with the creative process or delay the workflow but to provide a level of education that can be used to guide instinctive decisions on set.
vi Potential for those who have taken the course to have the knowledge and confidence to help prevent accidents not only during working hours but also whilst in public life or at home with family.
Content
The Mark Milsome Foundation is fortunate to have significant support and contacts and the hope is to encourage known actors and specialists in their field to enhance the online course, to make it more visually entertaining and more engaging than a traditional Health and Safety course. Topics will be introduced by a presenter and visuals that will include animation, behind the scenes footage; and interviews with actors and crew. Each chapter will end with multiple choice questions with a straight pass or fail at the end of the course.
Topics 
Below are nine key topics that will be covered in the online programme. 
The Law and Understanding the Chain of responsibility.

 

Risk Assessment and Management

 

Working Hours and Welfare

 

Communication, Competence, Due Diligence

 

Speaking Up.

 

When Things Go Wrong

 

Health and Safety outside the UK

 

Stress and Mental Health

 

Further H&S Information and Resources
Timetable 
In April 2021 the above course was presented to Skillset as a scripted version and granted a Production Safety Passport (PSP) certificate allowing it to be taught as a recognised course. Kirk is currently preparing for physical production of the above course and speaking to potential partners.
#CrewMatter
The Mark Milsome Foundation is proud to include details of #CrewMatter on their website. Stunt woman Olivia Jackson suffered life-changing injuries on the set of 'Resident Evil' in September 2015. Olivia's husband and fellow stunt performer David Grant set up #CrewMatter, appealing to production companies to put people before profit to take care of film crew, without whom action films would never be realised.
Olivia Jackson's life-changing film set accident took place in September 2015, on the set of Resident Evil, Olivia was meant to carry out a fight scene that day but the schedule was changed on the day and replaced with a high-risk head-on motorbike stunt with an action vehicle. This change ultimately led to a life altering conclusion for Olivia.
Unbeknownst to Olivia, crucial elements relating to the stunt had been changed, this affected the stunt and resulted in the action vehicle not lifting the crane arm in time to avoid hitting Olivia's head and upper body.
In a coma for 17 days and needing intensive corrective surgery to her head, face, and upper body, Olivia was also left with her the left quarter of her body paralyzed and she had to have her left arm amputated. Having performed numerous stunts in many multi-million-dollar box-office hits, Olivia suddenly found herself unable to work in an industry she loved.
While Olivia was in a coma fighting for her life it was discovered there was extremely limited medical cover in place by production. The production company promised that irrespective of insurance, they would keep paying for her medical bills until she was back to health.
They later backed out of this promise to pay for her lifelong medical bills alone.
On top of this Olivia's legal team later discovered that the production company didn't have employers' liability insurance in place to cover Olivia or other key cast and crew in the event of an accident for which the production is liable.The film made over $270million dollars but the company that had contracted Olivia was now  no more then an empty shell. This means that Olivia has been left with no recourse  of compensation.  Her current legal case against the production company, the complex corporate structures  set up to protect all profits and the  lack of adequate insurance policies have led her, and those close to her, to fight for change in the industry.
#CrewMatter was launched to raise awareness of Olivia's battle,  but it also  aimed at the film industry, from production companies to actors and stunt crew. The goal is for production companies not to put profit before people and  to take care of the crew that works so hard to make their films.
What we need is for people like you to support this important campaign to ensure that no one is left in Olivia's situation ever again. Simply follow the campaign on:
• Facebook: @CrewMatter
• Twitter: @CrewMatter
• Instagram: @CrewMatter
You can make a difference too! Take a picture of yourself, like Olivia's, and post it on your social channels. We don't need you to say much, but if you have words of support, we'd love to read them in your posts.
Thank you.
#CREWMATTER