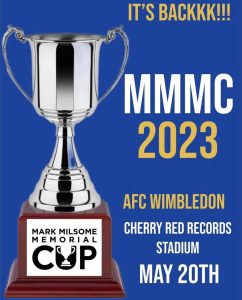 We are excited to announce that the 2023 Mark Milsome Memorial Cup has been confirmed!
The football fundraiser, which comprises of teams made up of film & TV crews, is held every year in a bid to raise money for the Foundation. The event is taking place on 20th May at Cherry Records Stadium, home to AFC Wimbledon.
Qualifiers are being held this weekend on Sunday 16th April at The Hive, Barnet.
The seven teams competing in the Qualifiers are:
Middle-Earth Wanderers
Gershwin FC
BallGravia
Black Branch FC
Quiet Place Rangers
Troopers FC
Slimer FC
All the proceeds from this fundraiser will go to the Foundation and help fund our important mission – to advocate for better health and safety practice on all sets and help young people get a foot in the door of the film & TV industry. Thank you, to all those involved, for your support.