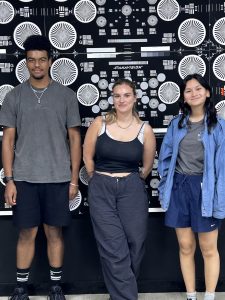 The Foundation is excited to be kicking off the new academic year with three new Foot in the Door trainees. We welcome Stephanie Chao, Lily Coney and Louie Walters to the MMF family and look forward to the year ahead with them. They started the mentorship programme on Tuesday and have had an action-packed week so far at Panavision, where they were joined by former MMF alumni Daisy Allen and Scott Nolan. Their week featured a first aid course run by First Aid Matters and a camera workshop held by trustees and veterans of the film industry, Phil Sindall and Dermot Hickey.
Looking ahead, the trainees will soon be paired with mentors who will provide regular guidance, support, and invaluable industry insights. Furthermore, the Foundation will continue to offer ongoing training and support in various ways. This includes mentorship and support from MMF Trustee and FiD alumni Daisy Allen and the Foundation's secretary, Mona Benjamin. Together, they will cover essential topics such as handling bullying, accounting, maintaining well-being, and exploring job opportunities.
This scheme plays an important part in fulfilling a core part of the Foundation's mission – to help young people get a foot in the door of film and TV industry. Its primary objective is to bridge the gap between full-time education and careers in the film and TV industry with a particular focus on those who may not have otherwise had the chance to access training, gain experience, or benefit from mentorship opportunities.
If you are interested in mentoring our trainees or providing work experience opportunities please email secretary@markmilsomefoundation.com