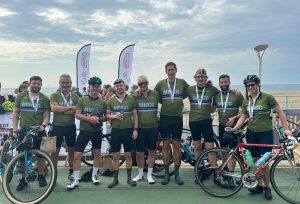 The Foundation extends its heartfelt gratitude to the individuals and organisations that have been fundraising for us.  On September 10th, Jack Mealing and Seb Barraclough successfully completed the London to Brighton Cycle Ride, successfully raising funds for the Foundation. Looking ahead, there are exciting events on the horizon, including a hike in the Forest of Dean on November 18th organised by Mad Dog Casting, the eagerly awaited Santa Fun Run facilitated by Pinewood Studios in December, and Andy 'Elvis' McGovern's London Marathon run in April 2024.
We really appreciate the incredible dedication and unwavering support from all those participating. These initiatives are a vital part of generating funds for the Foundation, with every contribution directly helping to further our mission: to promote better health and safety practices on all film and TV sets, as well as providing opportunities for young individuals in the industry. Your contributions play a pivotal role in helping us achieve our goals.
Please donate to these fundraisers by clicking here.
Thank you so much for your support.