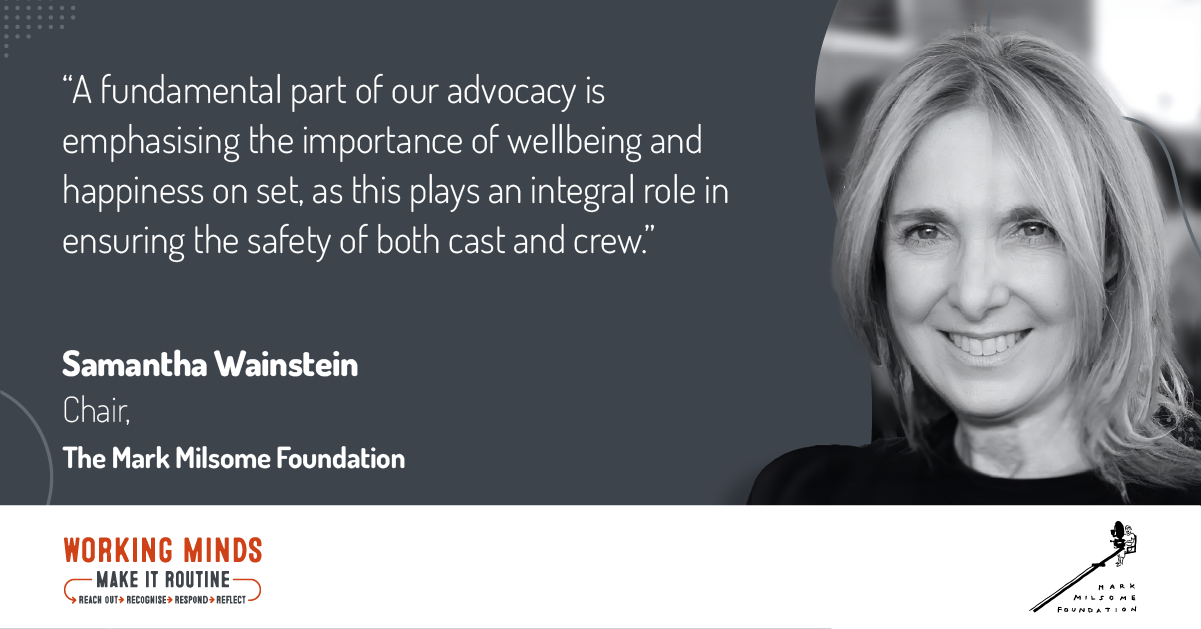 On this World Mental Health Day, the Mark Milsome Foundation is excited to announce its partnership with the Health and Safety Executive's (HSE) Working Minds campaign. In a collective effort to combat work-related stress and prioritise mental health, the Foundation are now joining other Working Minds partners across different industries to raise awareness of the support available and the campaign's key messages.

In an industry known for its fast-paced, often unpredictable nature, the film & TV industry faces unique challenges. Freelancers, self-employed individuals, and those on fixed-term contracts frequently deal with uncertainty, irregular and long working hours, and work-related stress, potentially leading to safety issues. A recent survey by the Film and TV Charity, titled the Looking Glass '22, revealed that only 11% of participants considered the industry a mentally healthy place to work.

The Working Minds campaign emphasises the critical need for employers to address work-related stress and mental health. Regardless of a company's size or nature, it is legally obligated to assess and mitigate stress-related risks and support employees' mental well-being.

This collaboration between the Mark Milsome Foundation, HSE, and other partners underlines the growing recognition of the importance of mental health in the workplace. By joining the Working Minds campaign, these organisations are taking concrete steps to create safer and more supportive environments. World Mental Health Day serves as an important reminder of the ongoing need to address work-related stress and prioritise the well-being of all workers in the UK.

Samantha Wainstein, our Chair, says: "At the heart of our mission is the commitment to make film and TV sets safe for all cast and crew, by advocating for better health and safety practice across the industry and collaborating with partners to raise awareness about key issues that need to be addressed. A fundamental part of our advocacy is emphasising the importance of wellbeing and happiness on set, as this plays an integral role in ensuring the safety of both cast and crew."
The Foundation's Level 2 Production Safety Passport Course (Screenskills) has a dedicated chapter on Mental Health and Well-being, further highlighting our commitment to promoting mental health awareness and support in the industry. 
Please click
here
to view HSE's press release about the campaign.