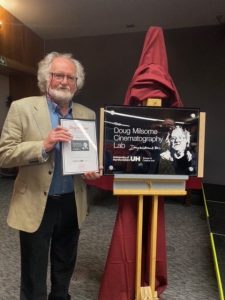 Huge congratulations to Doug Milsome!
It is a pleasure for the Foundation to announce that the University of Hertfordshire have recently opened up a new facility for their Film & TV students and have dedicated it to Mark's father, Doug Milsome. The Doug Milsome Cinematography Lab consists of a state-of-the-art 4K projection screening theatre with 7.2.1 Dolby Atmos surround audio and 4K Blue-Ray UHD playback. There are also 6 HD wall mounted monitors around a new room, each with its own HDM1 & SDI input that can repeat the image from the projector, for teaching purposes and to help students practise and improve their camera skills. 
Photo above shows Doug at the room dedication event.