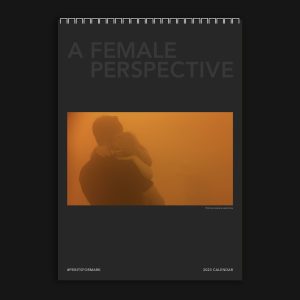 CVP Shines a Light on the 'Female Perspective' with a gallery' in Celebration of International Women's Day
–   Exhibit showcases a special collection of photography in honour of the Mark Milsome Foundation –
London, United Kingdom – 6 March 2023 – CVP, one of Europe's leading providers of professional video and broadcast solutions in Europe, is hosting a vibrant exhibition that showcases a stunning collection of photography by female cinematographers at The 
CVP | ARRI Creative Space on Charlotte Street, London, as part of a celebration of International Women's Day on 8th March 2023.  
Entitled, 'A Female Perspective – Gallery', the exhibit which is free to attend, will run from the 6-10 March. During this time, the CVP | ARRI Creative Space will be transformed with a display of beautiful and powerful photographs from the Mark Milsome Foundation's (MMF) latest charity calendar, under its Prints for Mark initiative. The 2023 calendar, titled "The Female Perspective" was shot by members of illuminatrix, a society of very talented UK-based female cinematographers. 
Prints for Mark seeks to honour the life of cinematographer Mark Milsome BSC through supporting young people as they enter the British film and television industry. Funds from this year's calendar will enable the MMF to develop entry level positions, creating more diverse opportunities behind the scenes, whilst continuing to promote better health, safety and wellbeing practices for the industry.
Each print from this year's calendar represents a unique feminine perspective from all walks of life with images focusing on politics, family and business, using high quality photographs shot all around the world.
Andra Milsome, founder of the Mark Milsome Foundation, said: "I would like to thank each and every one of these talented women who have helped us bring together this wonderful collection of inspiring photographs for the Mark Milsome Foundation's 2023 Charity Calendar. This is an incredible way to honour the 5th year anniversary of Mark's passing and his legacy, and to promote more equal opportunities in our industry. The Foundation would also like to thank CVP for hosting the exhibit at its ARRI Creative Space so that more people have access to these beautiful prints."
Exhibition: A Female Perspective – Gallery
Dates: Monday 6th to Friday 10th March 
Time: Gallery open from 09:30 to 17:30
Location: CVP | ARRI Creative Space, 81 Charlotte Street, W1T 4PP, London
Find out more about the exhibit at:
https://cvp.com/events
To purchase the prints for Mark 2023 calendar, please visit: https://www.markmilsomefoundation.com/prints-for-mark-2023-calendar/ 
###
Images can be downloaded here.
About CVP
With over 35 years of experience, CVP is one of the leading and largest independent resellers of production equipment for the Media and Entertainment sectors globally, with a comprehensive sales and support infrastructure in the UK and across Europe. The company prides itself on maintaining close relationships with key manufacturers such as ARRI, Blackmagic, Canon, RED and Sony acting as an extension of their teams. CVP uses its unrivalled technical and commercial knowledge and real-world expertise to listen to customers, understand their needs and deliver the right solution for them, with global first class service and exceptional customer experience. CVP offers creative consultation, sales advice, technical service provision and training.
For more information visit: cvp.com
About Mark Milsome Foundation
Mark Milsome, a talented camera operator was killed whilst filming a car stunt on location in Ghana in 2017. Five years have since passed during which time little has changed to improve the safety of crew and all those working in the British Film & Television Industry.
On the 5th anniversary of Mark's death, the Foundation is calling for long overdue cultural change to protect and empower the workforce, so such a tragedy never happens again. It is our goal that everyone working on a production should be provided with health and safety training.